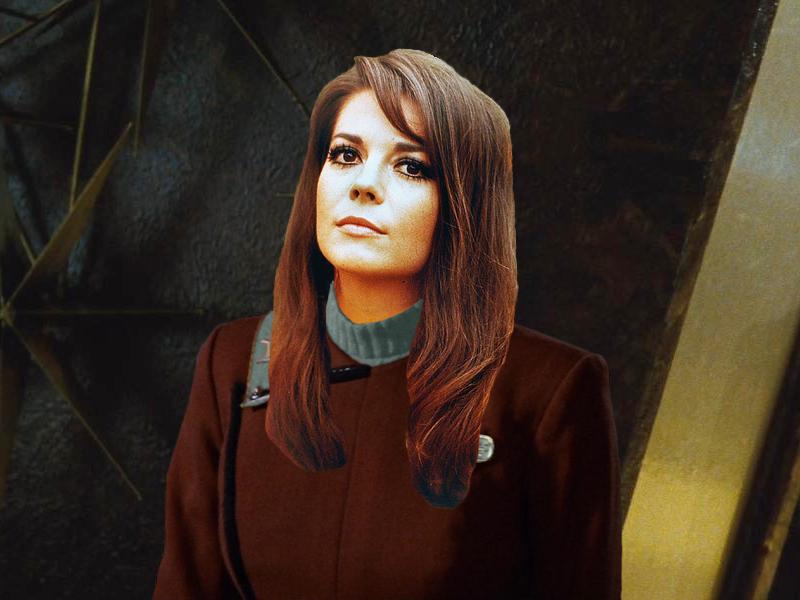 Stats
Last Post
Tue Mar 30th, 2021 @ 4:10am
Lieutenant Dacia Stallworth
Name Dacia Bonnie Stallworth
Position Chief Medical Officer
Rank Lieutenant
Character Information
| | | |
| --- | --- | --- |
| Gender | | Female |
| Species | | Human |
| Age | | 31 |
| Date of Birth | | 10/01/2265 |
| Place of Birth | | New Orleans , Earth |
Physical Appearance
Height
5 ft. 5 in
Weight
132 LBS
Hair Color
Dark Brown
Eye Color
Green
Physical Description
Dacia is an athletic / demure physique in a swimsuit; her hair is long but kept to regulations, she has a sfot face and kind smile. Her eyes are said to have depth to them.

On duty she will keep her hair long until it becomes busy ehrn thr hair is in a ponytail or a bun if heading to surgery. Her uniform is kept neat as she can. Off duty she tends to dress in better fashions and she tended to do Cosplay and Steampunk fashion as a hobby.

She plays tennis because she likes the outfits.
Family
Spouse
Children
Father
Reginal
Mother
Elizabeth
Brother(s)
Harold
Sister(s)
May
Other Family
Dr Robert Towns (Mentor) Not retired at 75
Mrs. Elizabeth Jones Nurse
Other Relationships
| | | |
| --- | --- | --- |
| Significant Other(s)/Romance | | Former Beau: Andrew (Tried take liberties) Ex-Fiancee. |
| Friends | | |
| Enemies/Rivals | | She is too cute to have Enemies |
Personality & Traits
General Overview
Dacia was raised as a Southern Bell in many ways and she likes to have those around her at ease; or free of pain, she is a caregiver type soul. Her manners and Bedside manner are a among her strong suits along with her research tendencies to better her medical knowledge. She has a natural talent with her; as she calls it, Doctoring. Her patients are her life for the most part and there is little she will not risk for them or to save them. She has a feisty temper and does one unady-like pursuit; weightraing and road work. Being of average human size she decided that she needed to get her body in a demure style of fitness; her excuse is 'what If I have to help with patients in harsh conditions, I cannot rely upon always having a man to do it for me.

Her Southern Pride has given her a temper of sorts and while she controls 'outburst' her 'Snide Tongue' is sometimes her downfall. She also has the compassion 'to allow Gentle to be so and Men to be … men.' She is a good doctor and has a good ear for listening to her patents; she is what is often called 'a Kind Soul' and genuinely likes people. She learned from a 'Country' doctor the strength in making a House-Call for some patents and brings treats for the Patents.

She prefers 'Day' as Dacia sounds so formal.
Strengths, Weaknesses, and Quirks
Strengths: Xeno-biology and compassionate

Weaknesses:Temper, snide remarks.

Quirk: Southern Pride, using old sayings.

Ambitions
To command a trama center on a Star Base
Hobbies, Interests, Likes, and Dislikes
Hobbies Herbalist, Horseback Riding, Cosplay, sewing, Redoing Dolls. Proper manners and Dancing. Tennis, Badminton, cooking. Fencing, Weight Training

Likes Western motif, A Good book. Puzzel, alien Cultures, Making people feel better, Jazz music. Study History Steampunk fashions. Vulcan meditation techniques, History Percussion weapons

Dislikes Non-Gentlemen, Lewd or unsavory manners, Advice from non-medical personnel about 'Doctoring.' Snow type climates.
Languages Known
Federation standard
Latin
Vulcan
Medical Profile
Dacia is very healthy and Health minded
Psychological Profile
Dacia was raised as a Southern Bell in many ways and she likes to have those around her at ease; or free of pain, she is a caregiver type soul. Her manners and Bedside manner are a among her strong suits along with her research tendencies to better her medical knowledge. She has a natural talent with her; as she calls it, Doctoring. Her patients are her life for the most part and there is little she will not risk for them or to save them. She has a feisty temper and does one unady-like pursuit; weightraing and road work. Being of average human size she decided that she needed to get her body in a demure style of fitness; her excuse is 'what If I have to help with patients in harsh conditions, I cannot rely upon always having a man to do it for me.

Her Southern Pride has given her a temper of sorts and while she controls 'outburst' her 'Snide Tongue' is sometimes her downfall. She also has the compassion 'to allow Gentle to be so and Men to be … men.' She is a good doctor and has a good ear for listening to her patents; she is what is often called 'a Kind Soul' and genuinely likes people. She learned from a 'Country' doctor the strength in making a House-Call for some patents and brings treats for the Patents.

She prefers 'Day' as Dacia sounds so formal.

This makes for a fine physician.
Defining Quotes and/or Character Beliefs
"Oh was your name Doctor for that advice?

"I am a Doctor not an Engineer."

"A lady does not discuss that thank Yew."

"Y'all Crazy."

"Love is in the air, Shoot it down like a Duck in season.

"Doctoring is not like Engineering; it is NOT okay to have parts left over."
Personal History
Dacia is the youngest of Two Girls and of the three children, she was dotted upon as a child and the youngest and raised to be a Southern Bell, she was taught Family History which interested her in history. She had a keen mind and seemed to have great recall of facts and things she read; in school this made her very much a geek if it were ot for her Southern Nature and attractive looks. Like any Southern Lady she was taught dancing and she read historical romance novels. Her eldest Brother fell out of a tree when Dacia was only entering middle school and the Local Doctor came; making a house call, to mend his wounds; and reset a Compound Fracture of his left arm. Young Dacia was not repulsed but curious about the whole thing and asked what she could do for her brother while he healed. A hobby that she had is to design dolls and made several nurses and Doctor dolls. Sewing the little costumes and making them heal the other dolls. Doctor Robert Towns took her under his wing as 'His Little Nurse' and when she took to the training well he started to mentor her. In High School Dacia became a Varisty a cheerleader and a certified EMT. She was heading towards being an Entry level nursing student when she graduated high school.

Taking an interest in medicine and with a recommendation from a Doctor Dacia entered the Star Fleet Academe under medical, she took no trip to Europe but studied hard and limited her 'Social Life' as so many fellow girls were having trouble balancing both Social activities and their Work load. She had a very dedicated to her goals. Only when her studies were up caught up and she felt she needed a break did she allow herself a moment to enjoy herself. She would go out with the Girls and while she loved dancing she was not out to find a beau; as men tend to be a distraction to working towards a goal.

She met 'Andrew' in her first year of the Academy and he appeared the Gentleman as they saw each other until half way through her second year; it was a part-time but to Dacia a dedicated relationship with him suggesting they consider marriage. It was when he wanted to 'see if they are 'compatible' that she realized he was not so much a Gentleman; in not a few nor lady-like terms she ended the relationship and went full into her studies and anger with her Broken Heart fuled her desire to be a Doctor and forget men all together. With renewed focus she hit her lessons and graduated top 10% of her class 3 months early with another graduating class.

Given a unique choice for her medical internship Dacia had opportunity to study 'Abroad'; in this case Vulcan internship. The three year program would allow her access to Xeno-Biological learning she could not get on Earth. She packed her bags and was off without looking back, much. She missed her family but her being around Vulcan men; which were emotionless suited her Just Fine. Her 'Very Emotional reactions to things sparked an Offer to learn Vulcan Meditation Techniques. She graciously; as how do you 'Not' accept something from a Vulcan. It did become part of her exercise program and to meditate as well to help her relax.

While on Vulcan she was like a sponge taking in all that they taught her and more; she had a few 'Alien' species come to Vulcan ; The Andorian delegation had a type of stomach and intestinal problems from an allergy to a Vulcan leafy bit of salad. It was the fact Dacia loved her gardening and Herbal studies that helped narrow the cause quickly. The Andorians had hint at if she would like to visit Andorian Home World she would be welcome. She gracefully declined the offer stating she had not completed her time on Vulcan. In reality she 'Does not do Snowfall."

She completed her time and was placed on The USS Anthem, a Medical ship that was going near the Klingon and Romulan boarders as a First Response; her training on Vulcan kept her close t o the Vulcan female Science Officer having three years to learn the language to a degree of fluency. This time as a Medical Practitioner, she was the Doctor on Call for third; Graveyard Shift. It allowed for time reading and study of Medical journals and with only a Male orderly and a nurse to help her.
The Klingon new Home World did not come without some rogue Klingon ships and other incursions kept the ship somewhat busy. Mostly the Orion interventions cause pirate activity and some medical missions. There were a couple of Colony outbreaks that were seen to during her time on the ship. One outbreak was from a fleet ship that while exploring had contracted a disease not in the records; it was similar to Typhiod Flu, same kind of symptoms with the constipation also giving blood loss. The bacteria involved had been spread by the landing party not properly decontamination process. The hook was the type of bacteria was a leech type as it seemed to cause Blood Loss. After running a battery of tests we found out that the body had to go to 104 degrees body temperature when at 105 the body starts to die. It was a very controlled diagnosis and recovery program. She earned accommodations and was transferred with a promotion.

The USS Pharaoh was an explorer class assignment; the going into the unknown space, she was brought on as a Full Doctor and running the Gamma Shift again. However, when away missions came up it was Dacia was a second choice to the Chief Medical Officer; she was given many opportunities to go down as the Older Chief was more one to over-see all the operations of the Sick Bay and sent a subordination. There was also the rumors that the Commanding Officer had feelings for Dacia; which she denied as they had become friendly but not intimate. The Captain fought with Insomnia and kept coming to the Sick Bay and Dacia is a friendly type and a Southern Hostess. They two often had conversations over tea. The Captain came to trust her; to a degree, as his confidant due to the hours spent in conversation. Being a single man it was ; of course, rumored they were more than friends. The truth was far less interesting as he respected Dacia and enjoyed her company but did not appear to want it taken farther than platonic friendship The ship came across a hostile ship while surveying a system; the universal Translator did not fully give the exchange and a battle broke out. The ship took a pounding; The Deputy Chief Medical Officer; Triage Room Two, were lost in the battle. Dacia had to compensate for the loss and with damage to the drives it took three months to get back for repairs.
Only when Dacia was put in for transfer that he gave her a note that while professional he wanted her to stay on the station and keep her position as the Field commission of Deputy Chief and not leave him to find another confidant.

During the repairs of her former ship Dacia was promoted and sent out on the USS Roosevelt as the new Deputy Chief Medical Officer. The Chief was a man who did not like transporters; thus, it fell to Dacia to go on many of the Routine Landing parties. She became somewhat of a mainstay among the Command Crew with her Hostess type nature help her to be more attentive to the people around her. She was on an away mission for a planet with a Trillion Fever; an easily medicated problem for Medical, the souce was believed to have had exposure from Klingons having surveyed the planet.
The only problem is while the Medical teams were distributing the medicines the people not improve. It had no effect on the Native Population. It was when Dacia suggested some of the Herbal medicines for the suffering showed promise. Then the Medical Staff found the root materials to create a herbal version of the medicines; lead by Dacia, were able to heal the Population. It was also discovered the Native population were very connected to their natural environment and synthesized medicines do not work in this case.

Her work gaineded her a promotion and Transfer to the USS America as Chief Medical Officer.





Education Record
Mentoring from Country Doctor
Vocational medical training
Star Fleet Medical academy
Medical Intership on Vulcan
Service Record
See History